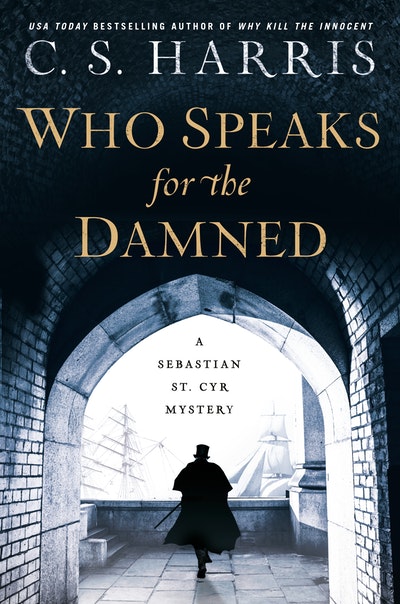 Title & Author:
Who Speaks for the Damned
by C.S. Harris
Why I bought it:
Actually, I didn't. I won this copy from Goodreads. But it's one I would have bought anyway because this mystery series is one of my favorites.
The plot in brief:
This is the fifteenth Sebastian St. Cyr mystery. It takes place in London in the summer of 1814, and it revolves around the murder of Nicholas Hayes, the third son of the late Earl of Seaforth. Only, everyone thought Haves died years ago in Botany Bay. So why did he come back to England? And who killed him? Viscount Devlin and his wife, Hero, are on the case.
My thoughts:
This is a good one!
I love Devlin and Hero; they're such great characters. They are definitely the reason I enjoy reading these books so much. The time period these books are set in is an interesting one, which is another draw. And while I know you're supposed to read a series like this in order, I actually read the fourth book,
Where Serpents Sleep,
first, and I'm kind of glad I did because that's the book where Devlin and Hero meet. Of course, I then went back to the beginning and read the first three books to catch up; I've been reading this series ever since. 15 books later and I'm still hooked.
My rating:
4/5 stars.
Title & Author:
A Climate of Fear
by Fred Vargas
Why I bought it:
I love Fred Vargas's books. So last year when I spotted this one at a library book sale, along with four other Vargas mysteries that I'd already read and knew I loved, I quickly snatched them all up. ($1.25 well spent!)
The plot in brief:
When the same symbol is found at two apparent suicides, Commissaire Adamsberg and his unique team of detectives think they might have a serial killer on their hands. The twists and turns of their investigation lead them to a tragic expedition in Iceland that took place ten years earlier, and to a strange society in Paris obsessed with Robespierre.
My thoughts:
What I love about Vargas's mysteries is that they're always so unexpected. I never know where they're going to end up, but I always enjoy the ride. I also love the quirky eccentricity of Adamsberg and the other members of his team. These are just fun reads. A little strange at times, but always entertaining. My two favorites are
An Uncertain Place
and
The Chalk Circle Man.
But this one is good, too.
My rating:
4/5 stars.
Happy Reading!