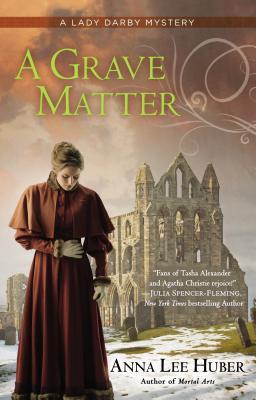 A Grave Matter by Anna Lee Huber
Lady Kiera Darby and Sebastian Gage have another puzzling mystery to solve in this third installment in Huber's Lady Darby series. This particular mystery involves three disturbed graves, different sets of stolen bones being held for ransom, and murder. And once again Kiera and Sebastian are partners in solving crime. I really enjoy these books; they're always interesting and entertaining. And they're set in Scotland. But what I like best is the romantic relationship between Kiera and Gage (which progresses nicely in this book). The two of them together make me smile. I can't wait to read the fourth book in this fun series.
Deathwish by Rob Thurman
This is the fourth book in Thurman's Cal Leandros series, and once again Cal and his brother, Niko, are in over their heads: the monstrous Auphe are back, determined to kill Niko and claim Cal as one of their own, the vampire they were hired to help ends up dead, and there's a new bad guy in town. Cal's not sure they're going to survive this time. Luckily, "the Leandros brothers had turned survival into an art form like nobody else ever had."
What I like about this urban fantasy series is all the magic and supernatural suspense, but what I love about these books is the relationship between Cal and Nik. These two brothers--their friendship, loyalty and love for one another--is the heart and soul of these books. And why I keep reading them.
Murder in the Bowery by Victoria Thompson
Wow. I just counted them all up and this is the 20th book in Thompson's Gaslight Mystery series. And the fact that I've read all twenty should tell you how much I like them. And it's not just because Sarah Brandt and Frank Malloy are such appealing characters, it's also because, with every mystery that she writes, Thompson gives me another interesting glimpse into New York City's gilded past. This one's all about the newsies, who are on strike, orphan trains, and a missing society girl who went slumming in the Bowery. And I enjoyed it as much as the 19 books that came before it.
So, there you have it. Three great books from three great series, each worth reading. But, as in all series, it's best to start with the first ones:
The Anatomist's Wife
,
Nightlife
, and
Murder on Astor Place.
Happy Reading!