"It's not a game," she said. "It's the game. It's the Lying Game."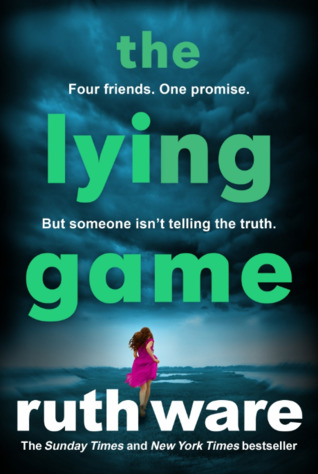 It began seventeen years ago at Salten House, a boarding school in Southern England.
It began with four teen-age friends: Kate, Thea, Fatima, and Isa.
There were four basic rules: Tell a lie, Stick to your story, Never get caught, and Never lie to each other.
It didn't end well.
With a career and a new baby, Isa Wilde hasn't thought about the Game or those days at Salten House in years. Then she gets a text from Kate saying: I need you. And she has to go back. They all do. And while Isa is glad to see her old friends, it's not exactly a happy reunion for any of them. Because the past they thought they'd buried, and all their old secrets and lies, are starting to come to light.
They are here: Luc, Ambrose, and not just them, but ourselves, the ghosts of our past, the slim laughing girls we used to be before that summer ended with a cataclysmic crash, leaving us all scarred in our own ways, trying to move on, lying not for fun, but to survive.
This is not exactly a fast-paced page turner, but I didn't mind the unhurried way this mystery unfolds. It takes its time, but I never felt that it dragged. I was too caught up in the story of these four girls. Isa's narrative flows effortlessly between her memories of her year at Salten House with Fatima, Thea and Kate, and what's happening now with Kate and what's been uncovered. And since I'm a sucker for boarding school novels, I have to admit I liked all those bits set in the past with this quartet of imperfect girls and their unbroken bond of friendship. The rest of the plot kept me guessing as to who was behind what and where the truth actually lay. And I did not see that ending coming! Not having read either of Ware's other novels, I don't know how this one compares, I just know that I liked it. What made it even more fun was reading it with Melody. Make sure you go to her
blog
and check out her awesome review of this book.
Happy Reading!
The Lake of Dead Languages
by Carol Goodman
P.S. Melody had a few questions for me after we finished reading this book; here they are along with my answers:

Q. How do you feel about our four characters--Kate, Isa, Thea and Fatima?
A. I liked all four of the girls, though I didn't agree with the choices and decisions they made. I had the most sympathy for Kate, even when I found her close-mouthed and frustrating; Fatima and Isa were the most likeable and the two I'd probably get along with the best; and beautiful, prickly Thea was the biggest mystery. I found myself really wanting to know more about her.

Q. Since this is your first Ruth Ware book, how do you find it and do you like the story?
A. This book is good, although not nearly as suspenseful as I thought it would be. Still, I really like the way Ware writes and I can't wait to try her other books.