Work harder than anyone.
Be the most talented.
Sacrifice everything.
And if you're lucky, maybe you will go to the Olympics.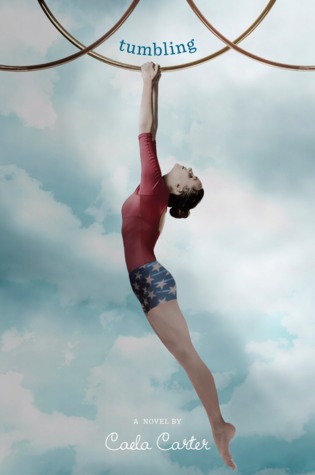 Five gymnasts: Grace, Leigh, Monica, Wilhelmina, and Camille
One shared goal: to make the Olympic team
Caela Carter's Tumbling tells the story of 5 elite gymnasts over two days as they compete at the Olympic Trials and try to make their Olympic dreams come true. Each girl has her own struggles and insecurities from weight issues (too much and too little), to pressure from coaches and parents, to her own doubts and fears, to the push and pull of having friends who are also rivals. And I found it a compelling look into the hearts and minds of incredibly talented and hard-working athletes who give up everything for this one dream.
As for the girls, I liked all five, and I wanted them all to make the team. It was very hard not to cheat and flip to the end of the novel early to see who made it and who didn't. But I was good and let the suspense build...and it is oddly suspenseful. There's so much at stake for these young girls. I got caught up in the drama of each of their stories. (I'll never watch gymnasts and gymnastic competitions in the same way again!) This is a fascinating read. So well-written and unexpected. And I totally loved it.
Happy Reading!