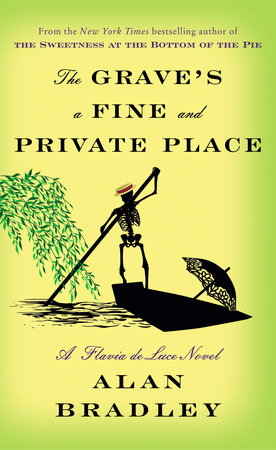 Title & Author:
The Grave's A Fine And Private Place
by Alan Bradley
First lines:
I am on my deathbed. Again. Although I have done everything in my power to survive it, it has not been enough. A human being can only bear so much.
Plot:
Still reeling from a recent family tragedy, Flavia and her older sisters are sent on holiday together with Dogger, their loyal family servant. They're boating when Flavia unexpectedly fishes a dead body from the river. Now she and Dogger are determined to investigate this suspicious death, whether the local police want their help or not. Because nothing cheers twelve-year-old Flavia up quite like murder...and the chemistry of poisons.
My thoughts:
I spent last weekend happily ensconced in Alan Bradley's latest Flavia de Luce mystery. It's the ninth book in this series and I thought it was a lot of fun. While still irrepressible and full of spunk, Flavia seemed a little less impetuous, a little wiser, and a little more grown up this time around. And I really liked that Dogger played a bigger role in this story; he's always been a favorite character of mine. I also liked that Flavia and her sister, Daffy, actually got along better in this one; it was fun seeing them work together for a change. All in all,
The Grave's A Fine and Private Place
is another well-written and entertaining mystery from Alan Bradley. (But if you've never read a Flavia mystery before, start with the first one! Because this series is best read in order.)
Happy Reading!
Other Flavia reviews: