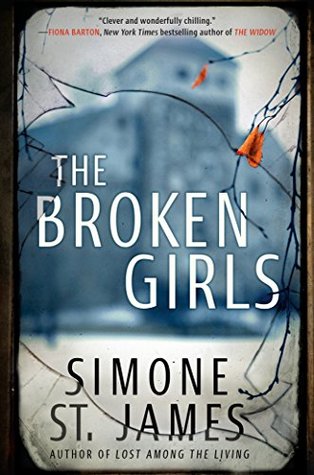 Simone St. James is one of my favorite authors. I love the haunting, suspenseful atmosphere she always manages to create and how her novels are that perfect combination of ghost story and mystery. Her latest,
The Broken Girls,
is no exception. The narrative alternates between 1950 and 2014 and involves the murders of two girls. There's more, of course, but I feel like pretty much everyone has already read and reviewed this one, so I thought I'd just mention a few of the things I liked best about it:
The Setting:
Idlewild Hall, an isolated boarding school in Vermont for girls that no one else wants. (It also happens to be haunted.)
The main character/narrator:
Fiona Sherida, a freelance writer whose sister was murdered 20 years ago. She's stubborn and fiercely independent and determined to uncover the secrets of Idlewild Hall.
The ghost:
the mysterious Mary Hand, who roams the grounds of Idlewild, bringing people's worst nightmares to life. But who was she in real life?
If you couldn't tell, I liked this one a lot! It's fast-faced, deftly written and practically impossible to put down once you start. The boarding school girls and Fiona are all great characters....I was quickly drawn into their stories, and found myself liking each and every one. And the ghost? She's great, too. I just wish she'd had more of a presence. This book felt more weighted on the mystery side of things than the supernatural this time around. But it's still a great read, with a satisfying ending. So...
Happy Reading!


Other St. James titles I've read and reviewed: