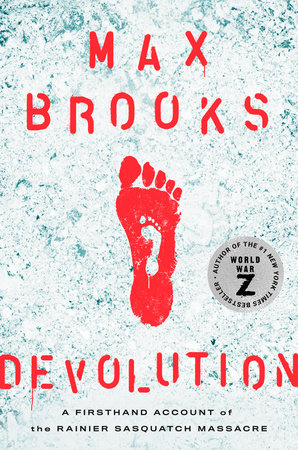 Devolution: A Firsthand Account of the Rainier Sasquatch Massacre by Max Brooks.
Eleven people live in Greenloop, a high-tech eco-community surrounded by untouched wilderness, but still offering all the conveniences of the modern world, including weekly drone deliveries. It's idyllic and safe. Until the volcanic eruption of Mt. Rainier cuts them off from the rest of the world, leaving them with no internet, no phones, no deliveries, and no way out.
"It's great to live free of the other sheep until you hear the wolves howl."
At first, they're biggest worry is food. And getting along with each other. But the biggest threat to their survival is something they don't even know exists, something savage and predatory...and headed their way. Something that just might make them turn savage themselves.
"...maybe there was some latent gene that woke up in those creatures when they stumbled across Greenloop and found themselves facing a herd of cornered, isolated Homo sapiens. Maybe some instinct told them it was time to swap evolution for devolution, reach back to who they were to reclaim what was theirs."
My thoughts:
This book is so good! I love it's epistolary style. The majority of the narrative is told in the form of Kate Hollands' journal. (She's one of the inhabitants of Greenloop.) Her journal entries are interspersed with interviews with her brother, Frank, who's still looking for her, and with Senior Ranger Josephine Schell, who found Kate's journal in the wreckage of Greenloop after the massacre.
Kate makes for a great narrator, describing her arrival at Greenloop with her husband, Dan, the beauty of their surroundings, their wacky neighbors, and all the strange and horrifying things that happen next. It's entertaining and compelling. And at the end, very suspenseful. Plus, there's bigfoot! I was hooked from the first page. And that ending! Max Brooks did it again.
Devolution
is one of my favorite reads this year, and will most likely make my Top Ten list of books read in 2020.
Happy Reading!