Top Ten Tuesday is a fun weekly meme hosted by
That Artsy Reader Girl
. This week's theme is supposed to be Books That Make Me Smile. Only I couldn't narrow my list down to just ten. So, I decided to tweak the theme a bit and make it a little more general.
Here are 10 random things in life that ALWAYS make me smile:
Books!
The ones with happy endings, humorous dialogue, suspense, fun adventures, romance, smart-ass characters, a little snark, a lot of fun, magic, twists and turns, thrills and chills, mystery, ghosts, even a bit of sadness. Because ALL kinds of books make me smile. (Which is why I couldn't come up with a list of ten for this post.)
Minions...
(No explanation needed.)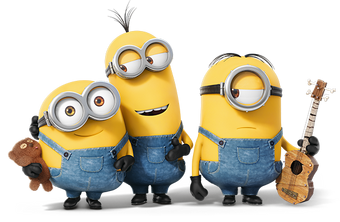 Doughnuts!!!
(The one food item I can never resist or turn down. Good thing I don't live close to a Krispy Kreme!)
Funny movies...like this one:
(And the scene that ALWAYS makes me smile: "Run to water, men!")
Puppies!
(Just look at that face!)
The beach on Napili Bay...
(My favorite place on planet Earth.)