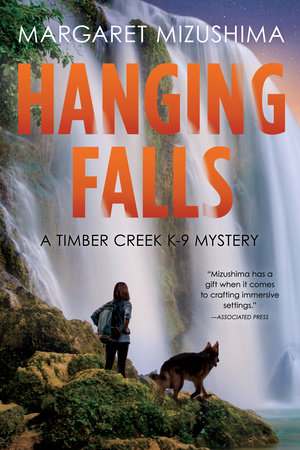 Officer Mattie Cobb and her K-9 partner, Robo, are back in Margaret Mizushima's sixth book,
Hanging Falls
, and Mattie has a lot on her plate in this one. On a routine hike, Mattie and Robo find the dead body of a young man caught in the fast flowing waters near Hanging Falls. It's easy to see that his death wasn't an accident. But who murdered him? Someone from Timber Creek? Or someone from the strange religious sect that he belonged to? Mattie is determined to find the truth. But murder isn't her only concern. She's also about to meet her long-lost sister and grandmother; she's nervous and excited, but mostly she hopes they can shed some light on what might have happened to her mother all those years ago. Then there's her relationship with local veterinarian Cole Walker and his two daughters. But they're a happy complication in her life.
My thoughts: Robo, Mattie's smart and well-trained German Shepherd, is still my favorite part of these books. He's so awesome and has so much personality; I love him! I also really enjoy Maggie's and Cole's continuing relationship, as well as Cole's struggle to be a good dad to his two daughters. The two are both such likable characters. And I thought the mystery in this one was interesting and entertaining. But the side story with Maggie and her family felt a little thin, almost like an afterthought. It needed to be more fleshed out in my opinion. This is still a really fun read. I just wanted more of it.
Happy Reading!
Other Margaret Mizushima books I've read: