I remember my dad reading all of Edgar Rice Burroughs' Tarzan books when I was a kid, mostly because I thought the covers were cool, but also because I loved watching the animated TV series of Tarzan back in the day. I've seen several movie versions of Tarzan since, my favorite being The Legend of Tarzan with Alexander Skarsgard.
So while I'd long been familiar with the general story of Tarzan, I'd never read any of Burroughs' original books. Then I saw there was a category for "A Classic About an Animal, or With an Animal in the Title" on
Karen's Back to the Classics Challenge
this year, and I immediately knew I wanted to read
Tarzan of the Apes
for it. And I'm so glad I did.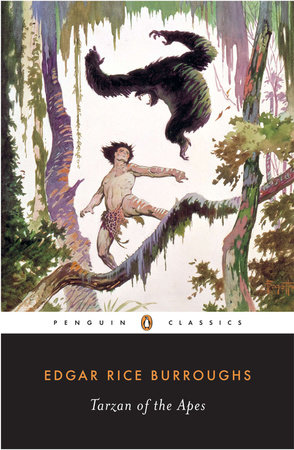 It was written in 1914, so it has that distinctly old-fashioned narrative style, but it's still a very fun read. It chronicles how John Clayton, Lord Greystoke, and his wife, Alice, are marooned in Africa, how they lived, gave birth to a son, and then died, and how Kala, an anthropoid ape, raised Tarzan as her own. He grows up among the apes, but is never fully one of them. He knows and understands that animal instinct and savagery, but his higher intellect allows him to learn and think things the apes cannot--like how to use a rope and knife, and even how to read and write. And he struggles to find his place in the world--he may be Tarzan, King of the Apes, but he's very conscious that he's also a man. And he longs to develop that side of him.
The young Lord Greystoke was indeed a strange and warlike figure, his mass of black hair falling to his shoulders...the fire of life and intelligence in those fine, clear eyes... His straight and perfect figure told at a glance the wondrous combination of enormous strength with suppleness and speed. A personification, was Tarzan of the Apes, of the primitive man, the hunter, the warrior... But there was that which had raised him far above his fellows of the jungle--that little spark which spells the whole vast difference between man and brute--Reason.
"Tarzan is not an ape."
I have to admit, my favorite parts of this book were in the second half when Tarzan first sees Jane, and when he saves her, and falls in love with her. I didn't love it quite as much when he loses her and has to follow her to America, only to lose her again for dumb but noble reasons on both his and Jane's part. (Which means he doesn't get together with Jane until the next book, The Return of Tarzan and, of course, my library doesn't have a copy of that one!) Despite that small annoyance, I did really enjoy reading this book. And I like Tarzan even more than I did before. Especially when he's with Jane.
From the trees Tarzan of the Apes watched the sweet face and graceful figure of Jane Porter. In his savage, untutored breast new emotions were stirring. ... But the girl, ah... He knew that she was created to be protected, and that he was created to protect her.
Happy Reading!