Stalking Ground: A Timber Creek K-9 Mystery
by Margaret Mizushima
Robo is back, along with his handler, Deputy Mattie Cobb. Together they find a missing woman, weather a mountain snowstorm, take on a mountain lion, and help solve a murder mystery. They're a good team. I like Mattie, but Robo is my favorite. (He's such a smart dog!) In
Killing Trail
, the first book in this series, I felt the characters were a bit stilted, but in this one they felt much more natural and well-developed. And the mystery itself had a few added layers I did not anticipate. (Although I did guess right about who did it.) All in all, this was a fun read.
The Patron Saint of Lost Dogs
by Nick Trout
This is a mildly entertaining book about Dr. Cyrus Mills, a 40-year-old veterinary pathologist who inherits his estranged father's veterinary practice. There's just a few problems: the practice is in Vermont, it's deeply in debt, and Cyrus hasn't practiced on live animals since veterinary school. Which leads to some humorous situations. There's also the obligatory small-town quirkiness. But this book felt a little too predictable to me. (And a little long, too!) It's also written in present tense, which isn't my favorite thing. So while it's not a bad read, I didn't love it. Or even like it much. But you might!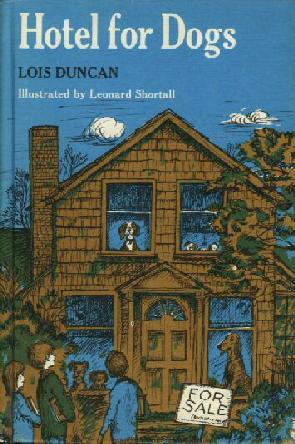 Hotel For Dogs
by Lois Duncan
Feeling nostalgic, I couldn't resist rereading one of my favorite children's books about dogs. I love this one! It's a charming and funny adventure involving two siblings, the mean boy next door, nine dogs, and an abandoned house at the end of the street. There's even a ghost dog! I'd forgotten how much I like this book; it made me smile all the way through it. I think it's the best read of the three...and a great way to start off the new lunar year.
What dog books would you recommend this year?
Happy Reading!