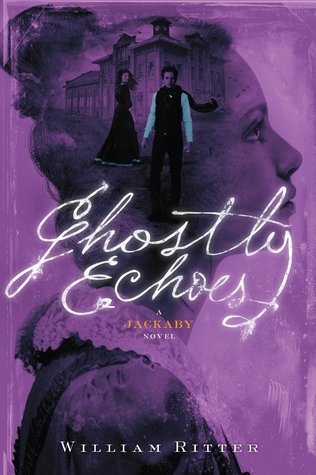 Detective extraordinaire R. F. Jackaby and his intrepid assistant, Abigail Rook, are back with another supernatural mystery to solve. This one involves Jenny Cavanagh, the ghost who shares Jackaby's house, and her decade-old murder. Jenny is finally ready to know the truth about her death. But there's more to this mystery than who killded Jenny. And the why of it leads Abigail and Jackaby on another strange adventure that includes a mad scientist, a vampire, a shadowy organization, a magical plot, a short trip to the afterlife, and a machine that will change the world. It also left me on the edge of my seat anxiously awaiting the next book in this fabulous series.
I love Abigail Rook and her quirky, psychic employer. They are a great combination. And it was fun to have the ghostly Jenny take a more active role in this story. And Charlie Cane is in it, too! (He's in the first two books and a favorite character of mine.) Strange things are afoot in New Fiddleham in G
hostly Echoes,
and I enjoyed every moment of this fun supernatural adventure. Now if only William Ritter would hurry up and write the next book!
Happy Reading!
Be sure to read these first: