"All towns need a bookshop."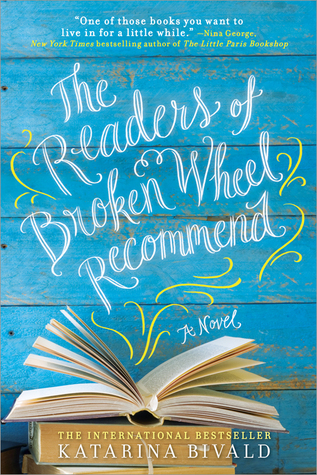 But what Broken Wheel, Iowa, really needs is Sara Lindqvist. She's a bookish, quiet girl who prefers books to people, but who has come all the way from Sweden to meet her pen pal, Amy Harris, only to arrive on the day of Amy's funeral. Luckily for her, the residents of this shrinking town are determined to make her feel welcome and wanted. They get Poor George to chauffeur her around town, they treat her to lunch, let her stay in Amy's house, and even try to set her up with Amy's handsome nephew, Tom. In an attempt to repay their many kindnesses, and to honor Amy's memory, Sara opens up a bookshop on Main Street, filling it with all of Amy's books. Now if only she can convince the residents of Broken Wheel to read them.
This story has everything I love: pen pals and letters, good books, humor, charm, friendship and romance, heart, and a town full of quirky, fun characters. I loved it! Seeing the town pull together on Sara's behalf was very entertaining, and her effect on each of them, especially on Tom, made me smile. This bookish gem is a novel I would happily buy and read again and again; it's that good!
Happy Reading!
Similarly delightful reads: