Here's the thing about writing Happily Ever Afters: it helps if you believe in them.
Here's the thing about me: I did until the day of my father's funeral.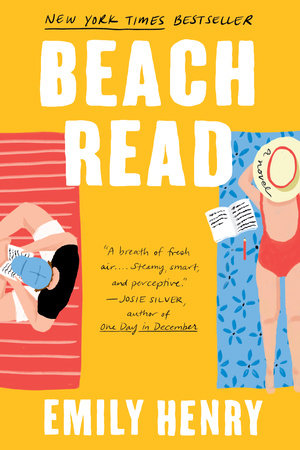 At 29, January Andrews has already written four romantic novels; her fifth is due at the end of the summer, but she's finding it hard to believe in love ever since she found out her parents' happy marriage wasn't as perfect as she once thought. Being at her father's beach house--the one she didn't even know he owned--isn't helping. Especially when she discovers that Augustus Everett, her old college writing nemesis, is living next door. Gus writes serious 'literary' fiction and has always scorned the happy endings in her stories. Only it turns out he's suffering from a bout of writer's block, too. So they make a deal: January will try her hand at writing something more serious while Gus pens something romantic and happy. Whoever gets their novel published at the end of the summer will be declared the winner. But spending the summer together just might bring them something even better than winning the bet. It just might bring them love.
Things I loved about this novel:
💚 January and Gus are well-developed, three-dimensional characters, not just predictable cliches.
💙 Their humorous banter.
💜Their romantic writing field trips...and the funny mishaps that occur along the way.
💚 Their honest and heartfelt conversations.
💙 How the awkwardness of their past relationship changes and deepens into friendship and then love over the course of the novel.
💜 The happy ending. (Of course!)
Things I didn't love:
😕 Umm...I can't really think of anything.
To Sum Up:
Beach Read by Emily Henry was the perfect summer read for me. It's entertaining. And it never made me roll my eyes in frustration at the characters... or at the bumps in their relationship. It's well-written. It's romantic. And it made me smile. As a fun summer beach read, I'd give this one 4.5/5 stars (even though the beach is hardly ever mentioned).
Happy Reading!