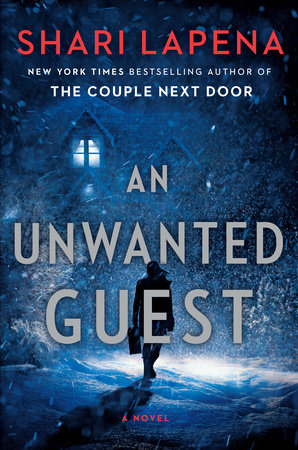 Winter in the Catskills.
A charming inn.
Ten guests.
One perfect weekend.
Until....
One of the ten is murdered.
And the rest get snowed in.
And their dream weekend turns into a nightmare.
In An Unwanted Guest, Shari Lapena has written a suspenseful mystery reminiscent of Agatha Christie. The fact that her characters are all snowed in by an ice storm made me like this book even more. The narrative switches between the twelve main characters, which should have been confusing, but somehow never was. What it did do was keep the story moving at a very fast pace. And I liked most of the characters. There's James, the inn's owner, and his son, Bradley; David, the criminal defense attorney (and my favorite), Gwen and her best friend, Riley, who's suffering from PTSD; Beverly and her cheating husband, Henry (who I didn't like); Matthew, who's rich, and his too-beautiful fiancee, Dana; Candace, the aloof writer; and dating couple Lauren and Ian.
As for the mystery itself, while I didn't guess the murderer, I did enjoy the various turns and twists along the way. But what really made reading this book fun was sharing the suspense with
Melody
. This was our most recent 'buddy read'. She did a better job at guessing whodunnit, so be sure to check out
her review
of this entertaining mystery, as well as the questions she asked me about it when we were done.
Happy Reading!
Melody's questions (and my answers):
Q. This story fits perfectly as a "locked room" mystery, given the setting and the events that happened. Do you think this 'claustrophobia' feeling will evoke a change in a person's mentality and drive him/her into doing something unbelievable?
A. Absolutely. And you could see it in the way the characters started to get a little paranoid, and point fingers and accuse each other of these horrible crimes. Some even went farther, acting on thoughts that they never would have acted on if they hadn't been trapped in this stressful situation.
Q. Would you stay in a remote inn like Catskills and Mitchell's for a relaxing getaway during the winter?
A. I think it would be fun to be in such a quiet, peaceful setting with all that snow...just as long as no one got murdered. 😉
Q. And finally, who do you think you'd be friends with among the characters in the book?
A. Truthfully, I'm not sure I'd be friends with any of them--certainly NOT Beverly or Henry, or even Matthew and Dana. I'd probably get along best with David, and maybe with Gwen. But I'm not sure we'd ever really be friends. We're just too different. But out of all the characters, I liked David best.