Here's what you need to know about me and reading challenges--I love the idea of them and I always start out with great enthusiasm, but some time around June, my enthusiasm begins to peter out, and I usually end up with a list of books I no longer want to read or review. Which then causes me unnecessary stress... and unwanted bookish guilt, too. So last year, I didn't sign up for any reading challenges. And it was nice. But part of me also missed joining in the reading challenge fun with everyone else.
So this year, I'm signing up for not one, but two reading challenges:
The Backlist Reader Challenge
and the
Back to the Classics 2019 Challenge
. Why these two? Because I've done each of them before and they're a lot of fun, and also because the books on my TBR list that I was already planning on reading this year happen to count for both challenges.
It's bookish serendipity at its best!
(You'll have to wait and see if I'm able to finish either of these challenges, or if I end up quitting halfway through the year...again.)
Here are the main things you need to know about these two awesome reading challenges:
The Backlist Reader Challenge 2019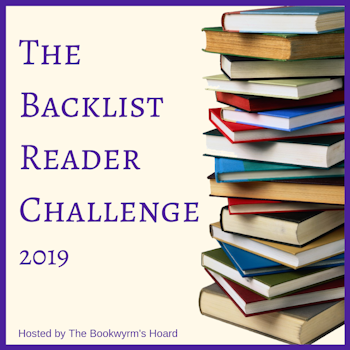 The Rules:
Choose and read books published before 2018 that are either already on your TBR shelf at home or on your want-to-read list. (I'm going to focus on the books I already own.)
Sign up and set your own reading goal. (I like that I have the freedom to read as many or as few books as I want to with this challenge!)
Review the books you read and link your posts back to Lark's blog.
Easy right? Plus, it tackles that ever-growing pesky TBR pile we all seem to have.
Back to the Classics Challenge 2019
Here are the categories for this year's challenge...and the authors I hope to read for each.
19th Century Classic. (Elizabeth Gaskell)
20th Century Classic. (Angela Thirkell)
Classic by a Woman Author (Willa Cather)
Classic in Translation
Classic Comic Novel (Georgette Heyer)
Classic Tragic Novel (Thomas Hardy)
Very Long Classic (Anthony Trollope)
Classic Novella (Edgar Rice Burroughs)
Classic From the Americas (includes the Caribbean)
Classic From Africa, Asia, or Oceania
Classic From a Place You've Lived (Luke Short)
Classic Play (Shakespeare)
Complete either six, nine, or all twelve categories. Sounds fun right? You should join in!
(As you can see, I'm shooting for 9 of the 12 categories because I already own books by those authors.)
Wish me luck...and Happy Reading!